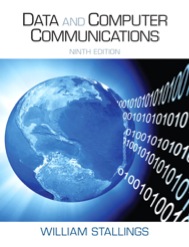 DATA AND COMPUTER COMMUNICATIONS, NINTH EDITION

A comprehensive survey that has become the standard in the field, covering (1) data communications, including transmission, media, signal encoding, link control, and multiplexing; (2) communication networks, including circuit- and packet-switched, frame relay, ATM, and LANs; (3) the TCP/IP protocol suite, including IPv6, TCP, MIME, and HTTP, as well as a detailed treatment of network security. Received the 2007 Text and Academic Authors Association (TAA) award for the best Computer Science and Engineering Textbook of the year. ISBN 978-0-13-139205-2


ONLINE RESOURCES AT THIS WEB SITE


STUDENT RESOURCES: a list of relevant links organized by chapter and an errata sheet for the book.


INSTRUCTOR RESOURCES: useful links, links to Web sites for courses taught using this book, and sign-up information for a mailing list for instructors.

ONLINE RESOURCES AT PEARSON


PREMIUM CONTENT: additional online chapters, additional online appendices, a set of homework problems with solutions, and a number of other supporting documents. See the card at the front of this book for access information.


PEARSON RESOURCES FOR INSTRUCTORS: includes solutions manual, projects manual, PPT slides, and testbank.



If you have any suggestions for site content, please email me by clicking on "contact me", below. In particular, please pass along links to relevant web sites and links to course pages used by instructors teaching from this book.